When We Are Closed
Medical Care When the Surgery is Closed
Please review our opening hours and evening and weekend availability to see if you can book an appointment with us – it is usually best to contact us, your usual doctors, who hold your records and know you best.
This service is available from 6.30pm through to 8.00am, 7 days a week.
The service also covers Bank Holidays.
If someone is seriously injured or ill and their life may be at risk, it is always best to ring 999.
If you have an urgent non-emergency problem that cannot wait until we are next available, ring 111; the non-emergency helpline.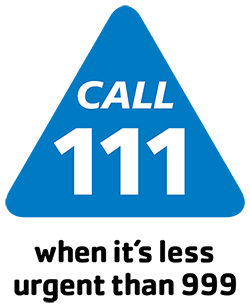 In a genuine emergency you should call 999. Chest pains and / or shortness of breath constitute an emergency.  
NHS 111
NHS 111 is a service that's been introduced to make it easier for you to access local NHS healthcare services in England. You can call 111 when you need medical help fast but it's not a 999 emergency. NHS 111 is a fast and easy way to get the right help, whatever the time.
NHS 111 is available 24 hours a day, 365 days a year. Calls are free from landlines and mobile phones.
When to use it
You should use the NHS 111 service if you urgently need medical help or advice but it's not a life-threatening situation. Call 111 if:
you need medical help fast but it's not a 999 emergency
you think you need to go to A&E or need another NHS urgent care service
you don't know who to call or you don't have a GP to call
you need health information or reassurance about what to do next
Emergencies
What is an Emergency?
Whatever the time of day, if you or someone else experiences the symptoms below and you feel it is so serious that it cannot wait, go to the nearest Accident and Emergency Department or call 999.
Symptoms include
Chest pain
Severe abdominal pain
Vomiting blood
Black stools
Breathlessness
Non-blanching rashes (the glass test)
Possible anaphylactic shock (swelling of mouth and throat)
Emergencies will be dealt with as a priority by a GP.
Minor Injuries
If you have had a minor injury within the last 48 hours why wait in A&E, contact the surgery for a Minor Injury appointment.
A&E
The nearest A&E department is…
Charing Cross Hospital
Fulham Palace Rd
London
W6 8RF
Hammersmith NHS Urgent Care Walk-in Centre
Hammersmith Hospital
Du Cane Rd
London W12 0HS
Ask Your Pharmacist
Pharmacies can help with a range of common conditions and minor illness/ injuries, such as aches and pains, uncomplicated cystitis, colds and skin rashes. You don't need an appointment; you can just pop in, so why wait for a consultation with your nurse or doctor. Don't miss out on this valuable service on your high street. Visit the National Pharmacy Association website for more information.